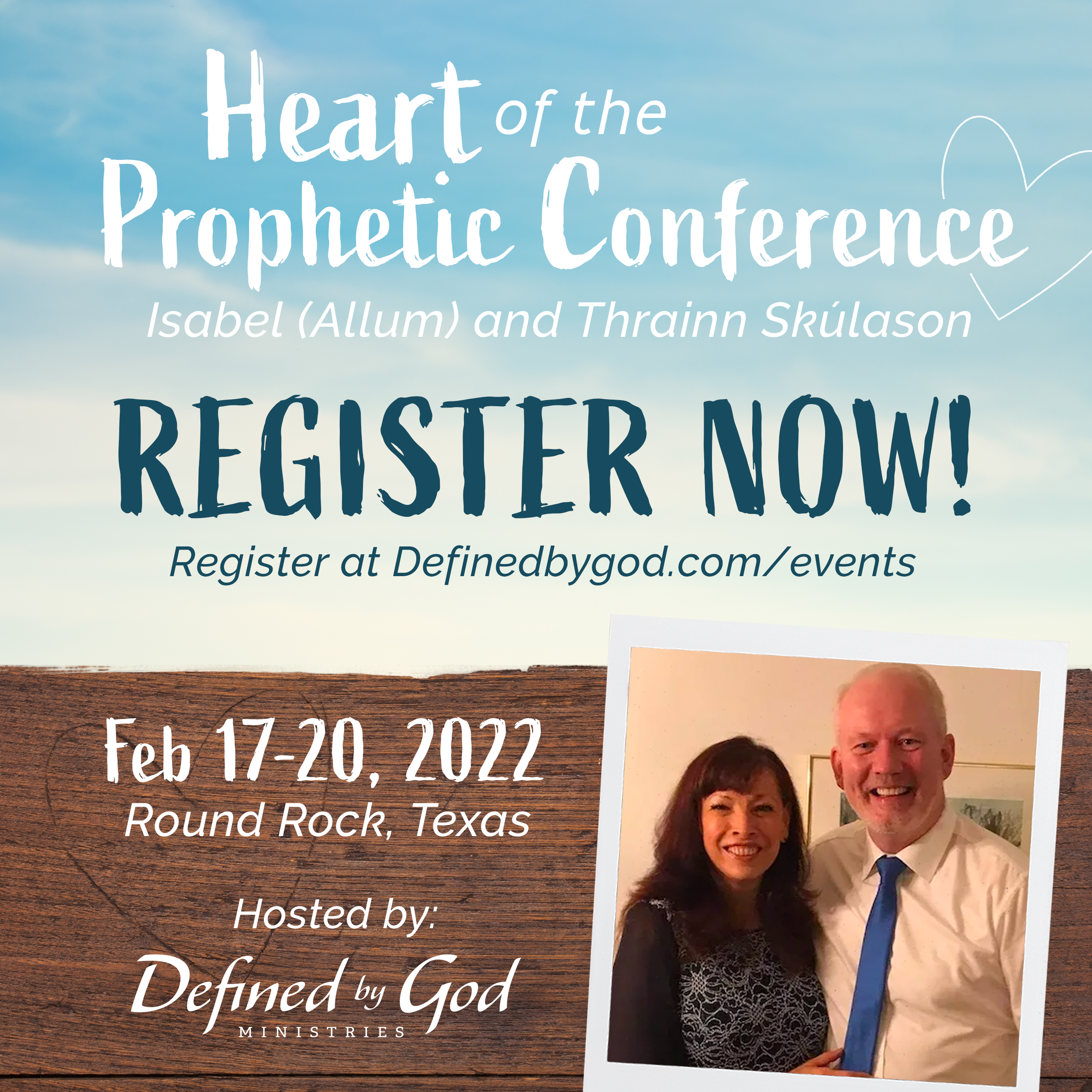 Heart of the Prophetic Conference
Defined By God Ministries is hosting Isabel (Allum) and Thrainn Skulason in Round Rock, Texas! (near Austin)
Isabel and Thrainn have a powerful global prophetic ministry and love to share the revelation of the Father's love, which is evident in their teachings, ministry and character. They know that intimacy with the Father is the most important part of our walk and greatest key to unlocking His kingdom on the earth today.
They understand the need for mature prophetic ministry and love to teach and equip the body to minister in the prophetic. Ordained through Partners in Harvest, Isabel was raised up and mentored by John and Carol Arnott, who imparted into her the need and importance of loving the Body of Christ. Thrainn and Isabel have learned to find the source of prophecy in the Father's heart and the fruit of it is evident wherever they go.
LOCATION:
Round Rock Public Library – 216 E. Main Street, Round Rock, Texas 78664
DATE & TIME:
Thursday, February 17th – @ 6:30pm
Friday, February 18th – @ 6:30pm
Saturday, February 19th – @ 6:30pm
Sunday, February 20th – @ 2:00pm & 6:30pm
*Please come at 6:00pm for registration on your first night. Every ticket includes all 5 sessions. It is recommended that you bring a recording devise for prophetic ministry time.*
PRICING:
$25 Per Person (includes all 5 sessions)
*A love offering will also be received*
ACCOMMODATIONS:
If you are coming from out of town, here is a list of local hotels to help you plan your stay.
REGISTRATION IS REQUIRED FOR THIS EVENT. SEATS ARE LIMITED. Provisions have been made for social distancing at the venue. Masks are welcome and not mandatory. For questions regarding this event and registration, you can contact Defined By God Ministries at 1-713-254-6004 or email us at hello @ definedbygod.com.
For more information about Isabel and Thrainn's ministry, visit their website: https://isabelskulason.com