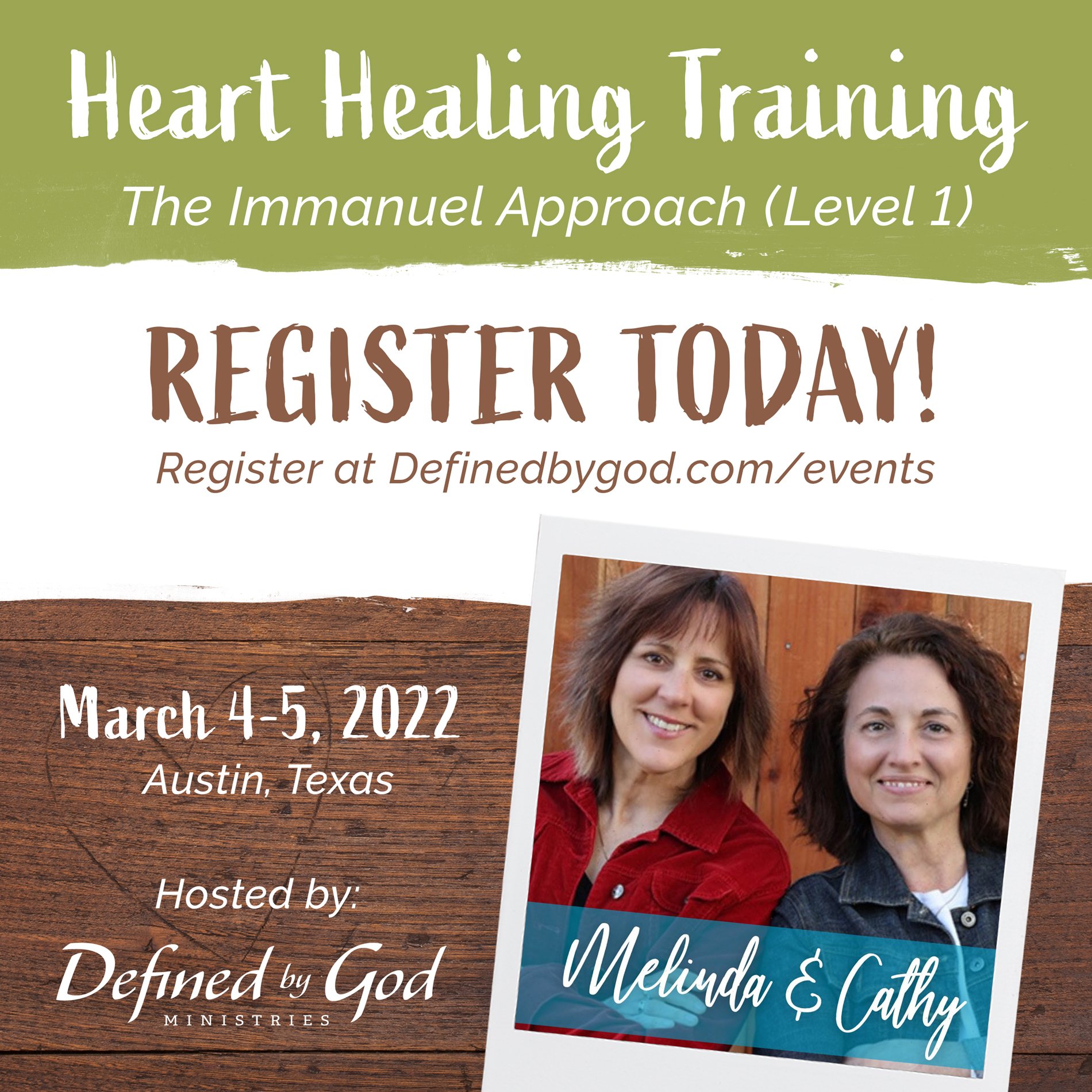 Heart Healing Training: The Immanuel Approach (Level 1)
What if we told you that it is possible for you to…
✓ Discover real and lasting peace even in the middle of uncertainty and chaos
✓ Connect experientially and interactively with the living presence of Jesus
✓ Experience exponential growth
✓ Experience lasting transformation and emotional healing in your life
✓ Experience greater joy in your life and relationships
✓ Rewire your brain for appreciation, joy, and interactive, experiential connection with Jesus!
Defined By God Ministries is hosting a Heart Healing Training:
The Immanuel Approach (Level 1) in Austin at the Boy Scouts of America: Capitol Area Council Building on March 4th – 5th, 2022.
DATE & TIME:
Friday, March 4th, 2022 – 9:00 AM – 5:00 PM
Saturday, March 5th, 2022 – 9:00 AM – 5:00 PM

PRICING:
$219 (includes all sessions, 2 lunches, refreshments and handouts)
ACCOMODATIONS:
If you are coming from out of town, here is a list of local hotels to help you plan your stay.
COVID-19:
Masks are not required in the training room, however, they are required in the shared public areas of the building (lobby, hallways, etc.)
What is Immanuel training?
The Immanuel Approach is the foundational tool that Face to Face Ministries uses in heart healing ministry sessions. It was developed by board certified psychiatrist, Dr. Karl Lehman, M.D. and uses brain science, intentionally incorporating how the brain works to help people connect relationally, experientially, and interactively with Jesus. Connection with Jesus is foundational in this approach and it is Jesus who guides the heart healing ministry session.
The Immanuel Approach for Life and Emotional Healing is powerful and life-changing for those who experience it. It is also transferable and easily caught as it uses specific, simple tools.
It will be of great benefit to you whether you pray with clients, pray with a friend, are part of a prayer ministry team in your church, or if you simply want deeper intimacy and a stronger connection with Jesus.
We currently offer Foundations I and II training in The Immanuel Approach for Life and Emotional Healing as well as more advanced Practicums. This weekend will be Foundations I training. We will be scheduling level ll and the practicum soon, more details to come. For more information about this training, visit: